TOP
>
>
ELECTRA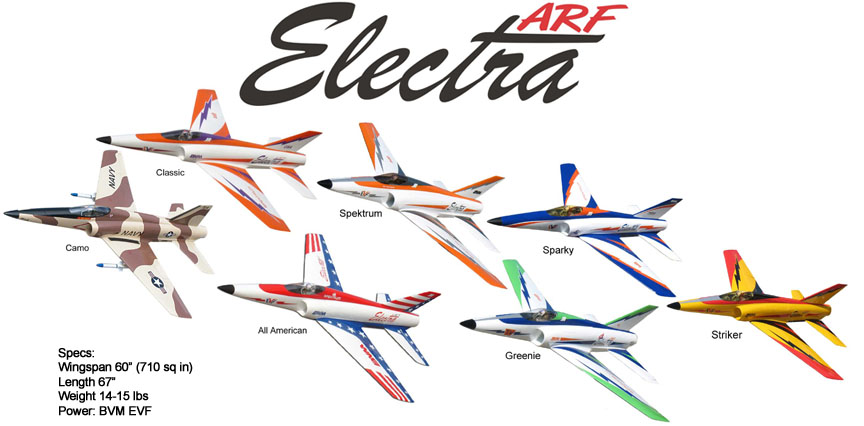 An all Electric Jet
Almost Ready To Fly.

Completely and Professionally Painted
The BVM Electra jet "kit" lead the way. Its size and performance have revolutionized the state-of-the-art for an all electric jet model.

The Electra jet "ARF" has all the same performance and mechanical features of the kit version, but with 90% of the labor to build and finish accomplished for you. Its all composite, painted-in-the-mold airframe is strong and light. With the BVM Electric VioFan, it is flight worthy at speeds up to 200mph, but stable slow flight and easy landings are where the Electra Jet really shines.

Let痴 take a closer look at why you may consider owning this very special ARF jet.
The Flying
Slow Fast Aerobatic

The "CLASSIC" in white, orange, and purple.

BVM has always believed in showing you first hand just how our products perform. Many BVM Reps are flying Electra's at model events, so you may get to see one soon. Then, you be the judge. You can also see video on our website.
Components

The airframe structure is a combined effort of BVM痴 USA based tooling and internal parts manufacturing and our Thailand counterpart痴 laminating, painting, and finishing capabilities.

Every Electra ARF is quality controlled at our Florida facility and then repackaged with BVM hardware, plans, and absolutely complete instructions.

A crystal clear canopy, molded cockpit deck and instrument panel are standard.

Some assembly of internal parts required.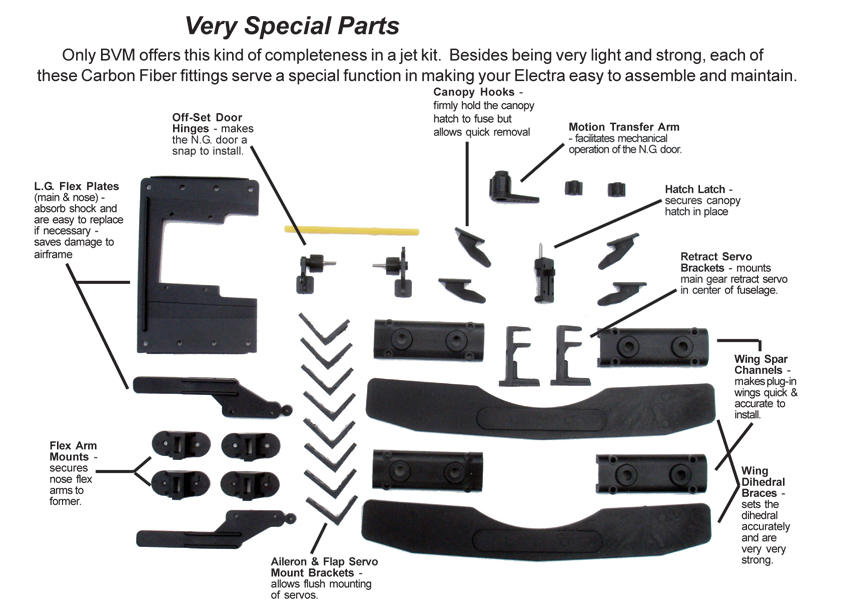 Access is Important
Even though the power and guidance components are minimum in this "all electric" jet, easy access to them is a convenient feature of your Electra.
Strong & Light Undercarriage
Hundreds of landings without a glitch
The mechanical retract operation is smooth and reliable using 2 JR 791 retract servos.
The injection molded Carbon Fiber retract frames and all aluminum machined internal parts provide superior strength. BVM痴 heavy duty 3/16" main wire struts with precision axles and Du-Bro wheels complete the landing gear package.
Because some modelers prefer air operated landing gear, BVM developed the "Air/Blue" retract units specifically to fit into flex mounts in the Electra.
The "air" installation package contains all of the pneumatic valve, "T" fittings, tubing, and storage tank required.
The Power

The Size

Professionally Designed - Professionally Manufactured

The EVF (Electric VioFan) comes to you completely assembled and factory test run.
Available for 10 to 12 cell operation.


It痴 just right for a one person operation.
The Convenience
The Electra Jet ARF will fit into most SUV痴 with the wings attached. Of course, the plug-in wings and stabs are easily removed for more compact transport and storage.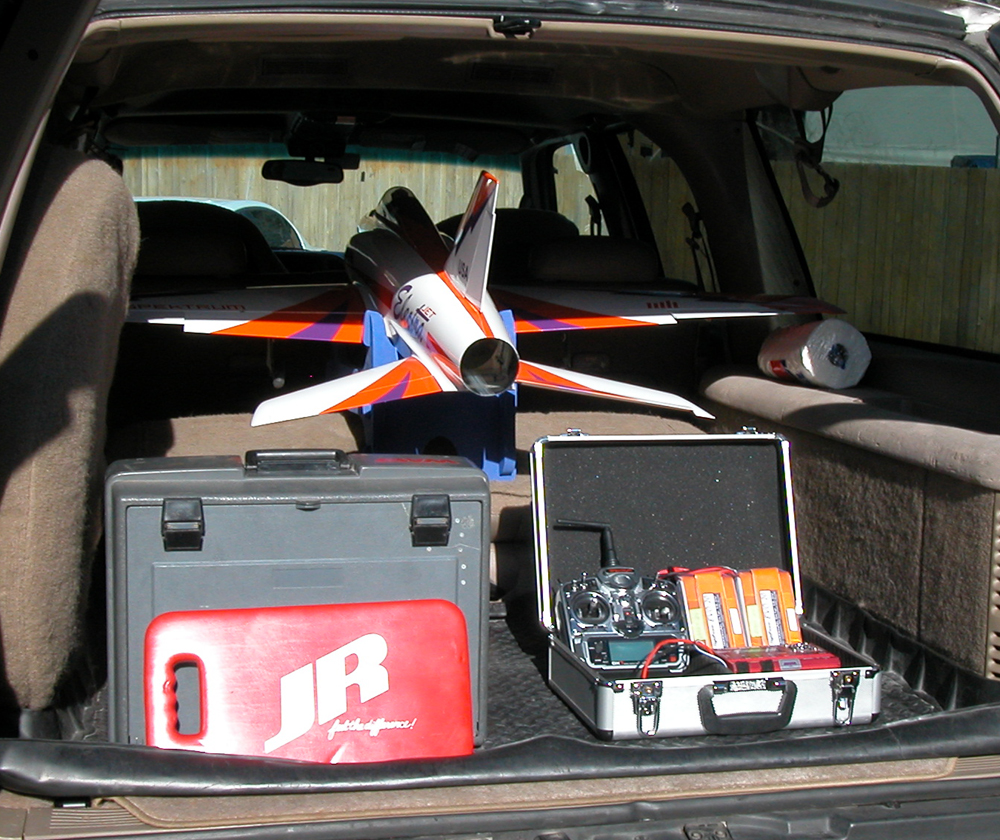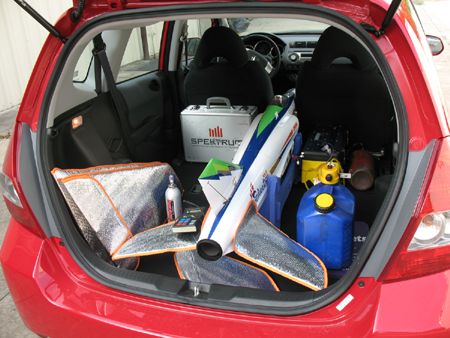 And, if air travel allows you to enjoy attending certain important events, the Electra ARF can be safely transported in the BVM Jet Case.
The Benefits
l Zero throttle lag and zero residual thrust; makes landing an electric jet easier than a turbine jet, especially in a crosswind.

l No turbine waiver needed.

l Minimum support equipment necessary - bring spare batteries and a charger for more flights.

l No vibration to wear out components.

l No liquid fuel to saturate the inside of your model.

l Low heat environment.

lElectric Reliability.

l150+mph performance.
Click To Enlarge
Striker

Camo

Classic

Sparky

Copyright(C) JETSET JAPAN